Science Labs
Science labs are a vital part of education. Whether it is learning the basics of chemistry through the interactions of acids and bases or dissecting a frog or draw inferences and conclusions through various experiments.
Our science labs are fully equipped with latest apparatus of international standards and give students complete freedom to students to experiment and innovate.
Physics Lab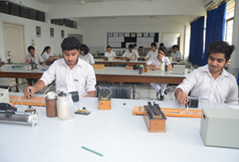 Chemistry Lab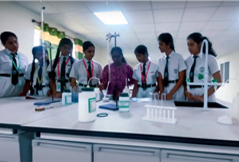 Biology Lab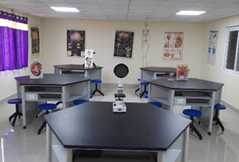 Social Science Lab
In today's interconnected world, students must be prepared to interact with people of all cultures and communities. They are also encouraged to explore the universe through a plethora of activities in the Social Science Lab.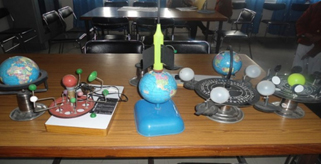 Library
The School libraries are considered as the nerve centres of knowledge which serve the students and staff members with needed information resources and act as vital partners in the collaborative learning activities.
To enhance and expand the school's curriculum, the school has a large library with over 15000 volumes where students have an access to a wide variety of books on all subjects. With added internet facilities, they can also access reading material online in the digitised library.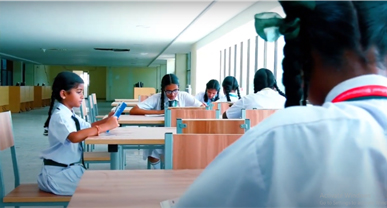 Computer Lab
To keep abreast with IT enhanced learning programmes and gain proficiency and dexterity in current technology the school has a computer lab with optimized supportive infrastructure with the latest hardware and software. The lab is equipped with 30 computers and is committed to a progressive and evolving approach to ensure that our students have the advantage of being familiar with up to date technology advances in IT based educational initiatives.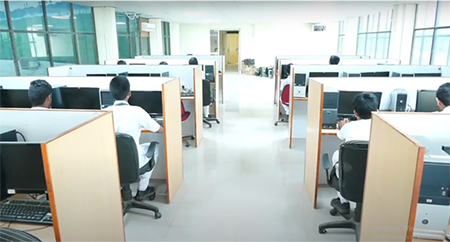 Mathematics Lab
Mathematics Lab is well equiped with materials and projects which help students to visuliaze the concepts. Hands-on learning is encouraged with various teaching materials. Math lab also enables the teachers to demonstrate and explain the concepts and ideas by using models, charts, graphs, pictures etc.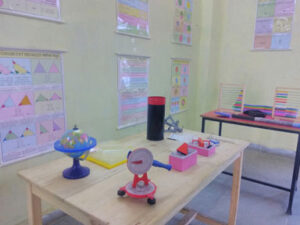 Robotics Lab
Our Robotics lab will give wonderful oppurtunity to get expose to the world of Robotics. Students collaborate in building various devices with the guidance of teacher.